Weekly Financial Letter Subscription
When you subscribe to our Weekly Financial letter, you get detailed weekly predictions as well the daily trend cycle for the below mentioned markets:
METALS:

Gold, Silver, Copper, Platinum, Palladium

ENERGY:

Oil, Natural Gas, Heating oil, RB gas

SOFT COMMODITIES:

Coffee, Cotton, Sugar, Cocoa, Orange Juice

GRAINS:

Corn, Wheat, Rice, Soybean, Soymeal, Soy oil

STOCK MARKET:

Australian, Hong Kong, Nikkei, Nifty, Euro Stoxx, DAX, FTSE, CAC, S&P, Dow, Nasdaq, Russell 2000

CURRENCIES:

Dollar Index, Euro, Pound, Canadian Dollar, Australian Dollar, Swiss franc, Japanese Yen, Indian Rupee, S. Rand

TREASURY BOND:

30 years bond
The Weekly Financial Newsletter sketches the likely market trends for the week before they unfold, making it an invaluable tool for the prudent investor. It is a valuable resource by which one can obtain a glimpse of how the major trends for the week shall move.
Due to its wide coverage, the newsletter is highly rated by institutions, banks, investors and active traders. It touches on major financial market areas and is a mirror through which one can discern the long term, medium and short term picture of the unpredictable market.
Why subscribe to our Weekly Newsletter?
Most Unique Theory to Predict the Weekly Market Trends
Members from more than 69 countries
Well known Hedge funds and Banks are subscribers of our newsletter
A highly successful track record
Instructions:
The weekly newsletter includes positive and negative cycles of each and every market. I.E. If we predict a positive cycle for a certain commodity from Monday to Wednesday, you should buy on Monday and sell on Wednesday and the same applies for the prediction of a negative cycle. The weekly newsletter is for people who want to take shorter, medium of longer term trade/investment positions.
Please read our disclaimer before you order our services https://www.mahendraprophecy.com/disclaimer.php
Subscription Options:
1 Week (Trial):

N/A

$219.00 USD

Monthly:

$2500

$550.00 USD

Quartely:

$6900

$1,599.00 USD

Semi-Annually:

$11000

$3,050.00 USD

Annually:

$18000

$5,790.00 USD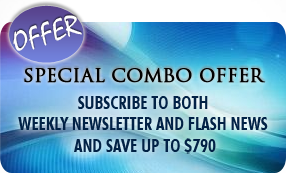 Receive daily trading range and strategies before the market opens. View Details
Receive outlook of Lithium, Cobalt, Gold & Natural resources in this monthly newsletter. View Details
This service is only for corporate and business houses. View Details


This service is only for high net-worth and corporate clients.
View Details
"As a journalist, I have interviewed and written on Mahendra's predictions. What has always amazed me is the degree of accuracy of his predictions. Mahendra remains one of the greatest astrologers of our times."


Ongango Omolo, Journalist - (Editor - Kenya Times)