Daily Flash News
What is Flashnews?
Subscribing to the Flash News entitles you to receive daily updates on all areas of the financial market with the next day's trading range before the Asian market opens.
We send the Flashnews five times a week and the accuracy of the daily trading range is over 90%.
We predict daily trading range for:
METALS:

Gold, Silver, Copper, Platinum, Palladium

ENERGY:

Oil, Natural Gas, Heating oil, RB gas

SOFT COMMODITIES:

Coffee, Cotton, Sugar, Cocoa, Orange Juice

GRAINS:

Corn, Wheat, Rice, Soybean, Soymeal, Soy oil

STOCK MARKET:

Australian, Hong Kong, Nikkei, Nifty, Euro Stoxx, DAX, FTSE, CAC, S&P, Dow, Nasdaq, Russell 2000

CURRENCIES:

Dollar Index, Euro, Pound, Canadian Dollar, Australian Dollar, Swiss franc, Japanese Yen, Indian Rupee, S. Rand

TREASURY BOND:

30 years bond
The Flash news is widely subscribed by active traders who are looking for answers at crucial stage in daily volatile market. We try to include all markets daily outlook in our flash news.
The daily flashnews gives the daily trading range in which the market will move during the day.
Instructions:
We write a day trading range for all the above mentioned markets and it is very simple to use. Ex. If we write that metals will trade positively on Monday then buy metals around our predicted day low; and vice versa for our predictions about negativity one would sell around the predicted high.
Please read our disclaimer before you order our services https://www.mahendraprophecy.com/disclaimer.php
Subscription Options:
1 Week (Trial):

$215.00 USD

Monthly:

$555.00 USD

Quartely:

$1,595.00 USD

Semi-Annually:

$2,995.00 USD

Annually:

$5,795.00 USD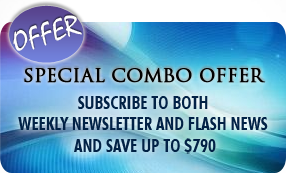 Receive outlook of Lithium, Cobalt, Gold & Natural resources in this monthly newsletter. View Details
This service is only for corporate and business houses. View Details


This service is only for high net-worth and corporate clients.
View Details
"As a journalist, I have interviewed and written on Mahendra's predictions. What has always amazed me is the degree of accuracy of his predictions. Mahendra remains one of the greatest astrologers of our times."


Ongango Omolo, Journalist - (Editor - Kenya Times)