2014 Financial Predictions E-Book - Launched January 19th 2014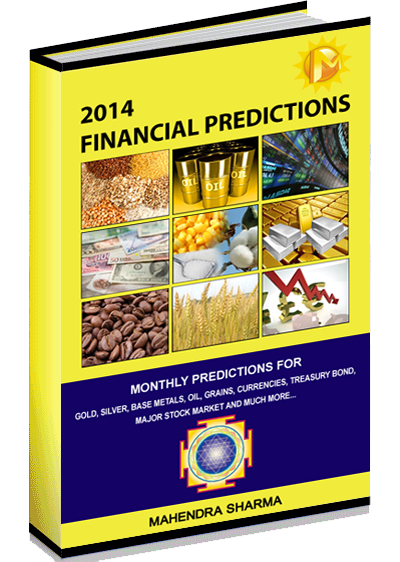 27 years of Research on Wave of Nature
More than 14.6 Million Website Visitors
Accuracy More than 90%
Globally many institutions, brokers, traders and investors are members.
Mahendra Sharma achieved 13000% returns in 5 months. This track record record is submitted to Guinness Book of World Records.
2014 Financial Predictions - A Must Have E-Book!
Book is covering 2014 detailed rising and falling cycles of:
Metals– Gold, Silver, Copper, Palladium, Platinum & other base metals
Energy– Oil and Natural Gas
Grains – Corn, Wheat, Soy & Rice
Soft – Coffee, Cotton, Cocoa, Sugar, Orange Juice and Lumber
Treasury Bonds – Thirty years Bond
Indexes – S&P, Nasdaq, Nikkei, Hang Sang, ASX, Nifty India, DAX, CAC, Swiss & FTSE, Canada, Indonesia, Thailand, Singapore, Malaysia, South Korea, South America, Middle-east and South Africa
Currencies – Dollar Index, EURO, Pound, Yen, Swiss Franc, SA Rand, Australian and Canadian dollar, Indian Rupee
Book will guide you on time frame of 2014 monthly positive & negative cycles starting and ending dates, so you can plan well in advance your futures and options trades.
Once you buy the e-Book, you can read it on any one device as the license get locked to that device. For reading on more devices, you will need to purchase the same again.
Make wave of nature/astro cycle an integral part of your trading & Investment strategies!

I am receiving marvelous comments regarding our book (read testimonial), visitors of our website should spread word about our book as this book can help the worldwide investors' community; and let's everyone make money. Don't forget to help needy if you make money.

I am reducing the book price from $152 to $88 only to make it affordable. 2012 very exciting year in history of Wall-Street so invest $88.00 in this book. I am unable to put price on this book as it is priceless, even $5000 will be less because I know the value of this book. Read and find out that this book worth $1 or it is really prices less.

Mahendra Sharma
Testimonials from Members
Dear Mahendra I bought your 2013 Financial Predictions book when it came out, and I felt very nervous to spend this much money on a single book, but I must admit that I am now so glad I did buy it. I like the book very much because the wave of nature is something I noticed a long time ago on many different aspect life, and it makes sense that it should be there on all aspects of life. your calls are really incredible, and you should really be proud of yourself; I believe that creating your own path in life in a creative way is one of the most rewarding thing; I try to do that in my own life, but you definitely achieved that feat. Of course, thank you for the nice turn around in my portfolio, but I especially want to thank you for being who you are. The world needs more people like you. Respectfully
Christian Jacob