2015 Financial Predictions E-Book - Released Worldwide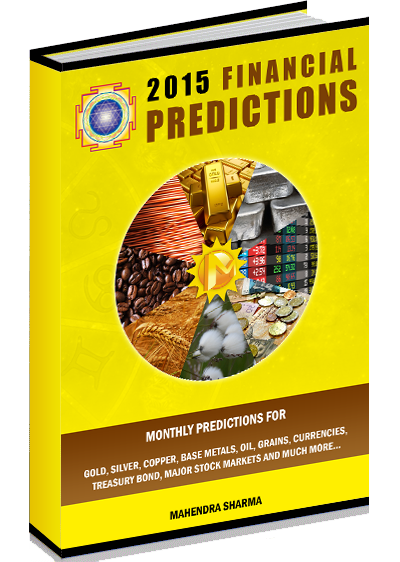 28 years of Research on Wave of Nature
More than 14.6 Million Website Visitors
Accuracy More than 90%
Globally many institutions, brokers, traders and investors are members.
Mahendra Sharma achieved 13000% returns in 5 months. This track record record is submitted to Guinness Book of World Records.
2015 Financial Predictions - A Must Have E-Book!
Book is covering 2015 detailed rising and falling cycles of:
Metals– Gold, Silver, Copper, Palladium, Platinum & other base metals
Energy– Oil and Natural Gas
Grains – Corn, Wheat, Soy & Rice
Soft – Coffee, Cotton, Cocoa, Sugar, Orange Juice and Lumber
Treasury Bonds – Thirty years Bond
Indexes – S&P, Nasdaq, Nikkei, Hang Sang, ASX, Nifty India, DAX, CAC, Swiss & FTSE, Canada, Indonesia, Thailand, Singapore, Malaysia, South Korea, South America, Middle-east and South Africa
Currencies – Dollar Index, EURO, Pound, Yen, Swiss Franc, SA Rand, Australian and Canadian dollar, Indian Rupee
Book will guide you on time frame of 2015 monthly positive & negative cycles starting and ending dates, so you can plan well in advance your futures and options trades.
Once you buy the e-Book, you can read it on any one device as the license get locked to that device. For reading on more devices, you will need to purchase the same again.
Make wave of nature/astro cycle an integral part of your trading & Investment strategies!