2018 Financial Predictions Book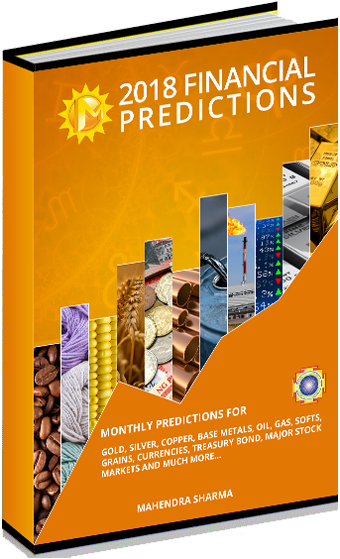 2018 Financial Predictions - A Must Have E-Book!
You can now buy Sections of this E-Book or Complete E-Book.
Scroll Down to Order.
Book may help investors to make timely decisions in all major markets
Book is covering 2018 detailed rising and falling cycles of:
Metals– Gold, Silver, Copper, Palladium, Platinum & other base metals
Energy– Oil, Heating Oil, RB Gas and Natural Gas
Grains – Corn, Wheat, Soy, Soy meal and Soy oil
Soft – Coffee, Cotton, Cocoa, Sugar, Orange Juice and Lumber
Treasury Bonds – Thirty years Bond
Indexes – S&P, Nasdaq, Nikkei, Hang Sang, ASX, Nifty India, DAX, CAC, Swiss & FTSE, Canada, Indonesia, Thailand, Singapore, Malaysia, South Korea, South Africa, Most of other European Market, South American Market, Asian Markets and Middle East Market.
Currencies – Dollar Index, EURO, Pound, Yen, Swiss Franc, SA Rand, Australian & Canadian dollar, Indian Rupee, Most of South American and Asian Currencies.
Crypto Currency – Monthly Trading Pattern of Crypto Currency.
Book will guide you on time frame of 2018 monthly positive & negative cycles starting and ending dates, so you can plan well in advance your futures and options trades.
Once you buy the Book, you can read it on any one device as the license get locked to that device. For reading on more devices, you will need to purchase the same again.
Make wave of nature/astro cycle an integral part of your trading & Investment strategies!
For payment instructions in Indian Rupee, please send email to mahendra@mahendraprophecy.com
Part of the book sale will go in Charity!
Buy Sections of our 2018 Financial Predictions E-Book
You can use the below buttons to buy only certain sections of our E-book.
If you want to Buy complete E-Book, Please scroll down and click on the Complete 2018 Book Button
29 years of Research on Wave of Nature
More than 14.6 Million Website Visitors
Accuracy More than 90%
Globally many institutions, brokers, traders and investors are members.
Mahendra Sharma achieved 13000% returns in 5 months. This track record record is submitted to Guinness Book of World Records.
"As a journalist, I have interviewed and written on Mahendra's predictions. What has always amazed me is the degree of accuracy of his predictions. Mahendra remains one of the greatest astrologers of our times."
Previous Books by
Mahendra Sharma
What our

customers

are saying
Dear Mahendra
I bought your latest book when it came out, and I felt very nervous to spend this much money on a single book, but I must admit that I am now so glad I did buy it. I like the book very much because the wave of nature is something I noticed a long time ago on many different aspect life, and it makes sense that it should be there on all aspects of life.
Your calls are really incredible, and you should really be proud of yourself; I believe that creating your own path in life in a creative way is one of the most rewarding thing; I try to do that in my own life, but you definitely achieved that feat. Of course, thank you for the nice turn around in my portfolio, but I especially want to thank you for being who you are. The world needs more people like you.
Respectfully
Christian Jacob
Dear Mahendra, I would just like to say one thing, I have followed your work for years now and your results show that no matter what others might say, you have been unbelievable with your predictions. I have followed your work since I first saw you on Carte Blanche in South Africa, a country I love and miss, but had to leave due to nearly losing my life due to crime ( I was shot four times ) . Your readings have always helped me, you mentioned my eyes in one of your readings 3yrs ago. I looked into it and found I have a rare eye disease, which at this moment is untreatable. These are just a few items I have brought to your attention, your work is truly amazing, do not let the noise out there disrupt or interfere with your work, it is always jealous or lost souls.
<
Thank You Brother and God Bless !
Regards
Darryl Koor
Thanks Mahendra….. I have a great Library of your predictions, most of which are "Spot On", so it is nice to be able to do save the PDF again. I noted with GREAT INTEREST that you are still planning a member meeting in Santa Barbara. I think that such a meeting will be one of the most important in my career as a money Manager, and very much look forward to meeting you.
Both my Grandmother and my mother were astrologers (Geocentric I think) and my teacher, until his death, was a Uranian Astrologer. As is always the case, I wish I had absorbed more of the knowledge. The changes which are coming in the world are massive, and it will be most important to understand the dynamics. I have two Partners in my company and they are now grasping the significance of your work. We are small, but much more accurate because of you.
Thank You Again,
Eric Kaufman
Dear Mahendraji,
I have gone through your book "2013 Financial Predictions" in details. First of all I am just amazed through the detailed predictions (both timing and Levels) for so much of the stock markets, commodities and financials of so many countries. Truly it's one of the remarkable and memorable kind of predictions ever I have come across. It has set tone for the road ahead and given the clear direction for the right path for a year to come.
Hope this knowledge of yours will help me to take right and wise decisions in my investments and trading.
Thank you very much for sharing your ideas and knowledge.
Samer Deshpande
Hi Mahendra,
Just made my first profit on your guidance.I'm SO excited and grateful to you, that you share your SPECIAL gift with us.I have read your web- site for about 8years and it is only now after purchasing your last 2 books that i have taken out a yearly subscription to your flash news so i can us it in support of your latest book. I was a little frustrated at first because of the time difference, but you have help overcome that by writing more clearly, to the point is great [BUY, LONG,SELL,SHORT] when to purchase eg.-intra- day [espcially in AUSTRALIA/ASIA as we get your news 12.00pm].
I'm can't believe that with your guidance i am more patient and far less anxious when trading and for that i thank you. I can't wait to receive your share suggestions for the ASX, but understand it takes time and just another undertaking to put into your already full schedule.
Till next time I wish you good health and peace of mind. Respectfully
Chery.
Dear Mr. Mahendra, I am your avid follower since last 3 years and must admit your accuracy is almost cent percent. You are unbelievably accurate in your predictions. Its a subject of research that how you did that where even Great Economists failed to understand. This is simply superb!
Most importantly I realized that even after possessing such an extra ordinary knowledge you are very down to earth and helping kind. You are a God Gift to the Mankind. Please keep up the Good Work. God Bless!!!!
Thanks with Regards,
Chetan Shah, Mumbai, India