Sunday, 27 January 2019
Mondays Daily Flash news (Unedited report)
Pound, Soy and coffee traded positive…commodity era is coming back? Modi should stop promoting himself as a messiah…
Dear Members,
Last week was the most interesting week because the market moved as predicted. S&P held value at 2616 and it almost tested 2678 on the higher side. 2678 will once again be the most crucial level to cross. Overall it was a very positive week for investors as the USA market kept moving higher. On the other hand the European market gained value as will move in a positive direction. China and other emerging market moved higher but Indian market struggled, in fact it underperformed.
A problem was witnessed in the Indian market, MODI wants to borrow more, the Bond Market experienced volatility and uncertainty which created panic in the Equity market. Elections are coming in India, the annual Budget is expected this week which will be announce by finance minister of India which so far failed impress Dalal Street.
Anyway, let's talk about the world as the rest of the world will be performing well. On Friday the Vale Mining Company Dam gave way, and this disaster killed more 200 people so lets pray for family and beloved. Many are expecting base metals supply disturbance which created panic buying in many base metals but I will cautions not to rush. There is no doubt that many commodities have bottomed out, but we still believe that the higher side will be limited in metals. Grains and softs look different and that's the reason that I am very bullish for coffee, cotton, soy, and wheat.
Last week coffee, cotton, and soy gained during last week as predicted. Must acquire 2019 Financial Predictions book if you like to know longer term out.
This week's best trades:
Coffee, cotton, soy, and wheat will keep moving higher. We are expecting a 10% move on the higher side.
Pound will gain value, watch 1.3371 closely, and book some profit.
Metals will also gain value, but towards the end of week one must close positions.
Palladium will be great sell at $1348 and $1378.
Cannabis stocks are making headline, former Prime minister of Israel BARAK, Chairman of medical marijuana company, InterCure limited which is planning to list in Nasdaq, it already went higher crazily. Many former and current politician now sitting on board of many Cannabis companies, it looks like that soon Cannabis will become part of regulated business area. Our view have been very bullish since last one year and time is coming soon that it will become legal business which could drive amazing growth for the few years.
Two weeks back we recommended buying EDXC, at $0.05, and now it is at $0.10, it should move in multi folds, though it is penny stock but some time we can take risk, as one time Apple was also Penny stock. I am not saying that EDXC will become Apple, but if there is opportunity of making money then take some risk and make some bucks and get out.
I know our weekly and Daily letter are expensive, so I always come out with yearly book which give detail outlook for whole year with trading ranges as well as monthly trend on following markets: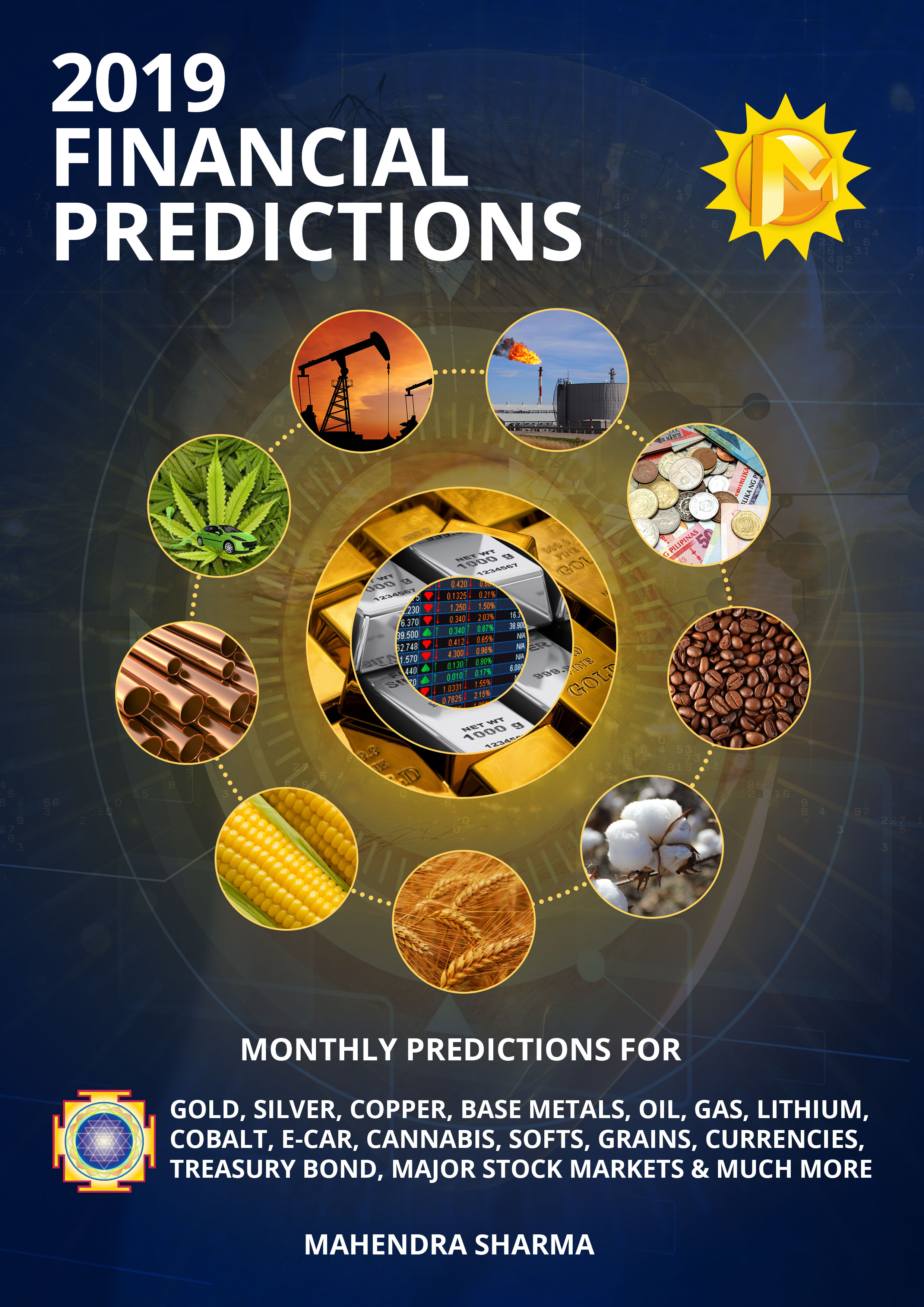 Metals (gold, silver, platinum, copper and palladium)
Energy (oil and natural gas)
Grains (soy, wheat, corn, meal) Softs (coffee, cotton, sugar, cocoa, orange juice and lumber
Currencies (dollar Index, euro, Pound, Yen, Franc, Ausi Dollar, Can dollar, Yuan, Rupee, Rand, peso, Real as well most of emerging market currencies)
Indexes (USA, European and Asian and Canada and South American, also small note on middle east and Africa).
If you can't subscribe our weekly and daily letters Our book is out and it is worth every penny…buy book or read more about to click here:
https://www.mahendraprophecy.com/2019-financial-predictions-book.php
Go on subscriptions to read complete weekly letter or daily flashnews.
Thanks & God Bless
Mahendra Sharma