Monday, 14 November 2022
Dear Members,
Last week the markets performed very well, S&P and Nasdaq made a huge U-turn, and stock prices reversed big time. In the future traders may talk about all these lower-side price levels, and they will also regret that they missed the greatest buying opportunity as many Wall-street experts are very bearish but we are not. Our predictions of S&P taking a U-turn from 17th October, from 3596 to 4000 are very accurate.
The most shocking news for everyone was the Dollar Index move as it collapsed from 113.86 to 106.25. The market hasn't witnessed this kind of fall in the last decade, but we predicted selling USD and buying currencies. Now we are expecting the dollar to stabilize around the 105.78 level.
Precious and base metals performed well, mining stocks also gained value, book profit around higher side levels.
Oil traded mixed during last week but natural gas traded on both sides but the overall trend remained negative as predicted. We are recommending starting building short positions in oil on the higher side during the middle of this week.
Grains struggled to move higher, but softs like cocoa and sugar made a big move, staying sideline. Soy oil is ready to crash big.
Thirty Year bonds gained value as predicted and stabilized around the lower side.
Semiconductors SOXL and YINN performed very well. Lithium stocks traded at an all-time high, this week is important because all the major planets like SUN, Mars, Mercury, and Venus are transiting to a different house so energy will be different. Sun, Mercury, and Venus will be in the house of Mars and Mars will be the opposite of all these planets.
We have been saying that we are waiting for the market this rally against all odds as most of the big guys remained negative on the market with an S&P target of 3000. I always have limited choices because I have one simple theory of the Astro cycle/Wave of nature, and I have to stick with what it is saying. Our theory indicated the best time for investors is from the 17th of October and expected S&P to gain from a low of 3496 close to 4071 levels by 18 November. In the short term, 4071 is a small Astro resistance level for S&P.
On the other hand, we may have a lot of sudden good news coming from China which may push the market higher.
This kind of above-mentioned move only comes when the Astro charts are supportive. You can see that we mentioned the same in our book "2022 Financial Predictions":
Ninth Cycle:
From the 17th of October 2022 to the 12th of November 2022:
This will be a surprisingly positive cycle, and we will see semiconductor and tech stocks on fire, so this will be a great time to make short-term bets on tech, semiconductors, or on NASDAQ. One can even buy tech ETFs like SOXL. This is only a short-term positive cycle so traders must get out from all positions in tech stocks and the market by the end of this cycle as the next cycle will be volatile.
We always make chart Astro charts for market behavior in October/November before the year starts. This Astro chart was created on 2 November 2021 for 2022 and basis of this we write our yearly book. I never released these Astro behavior charts to members or on the website, but last month I decided to release them because market conditions were turning very bad and you must have seen them in one of the weekly newsletters. I am putting it here again.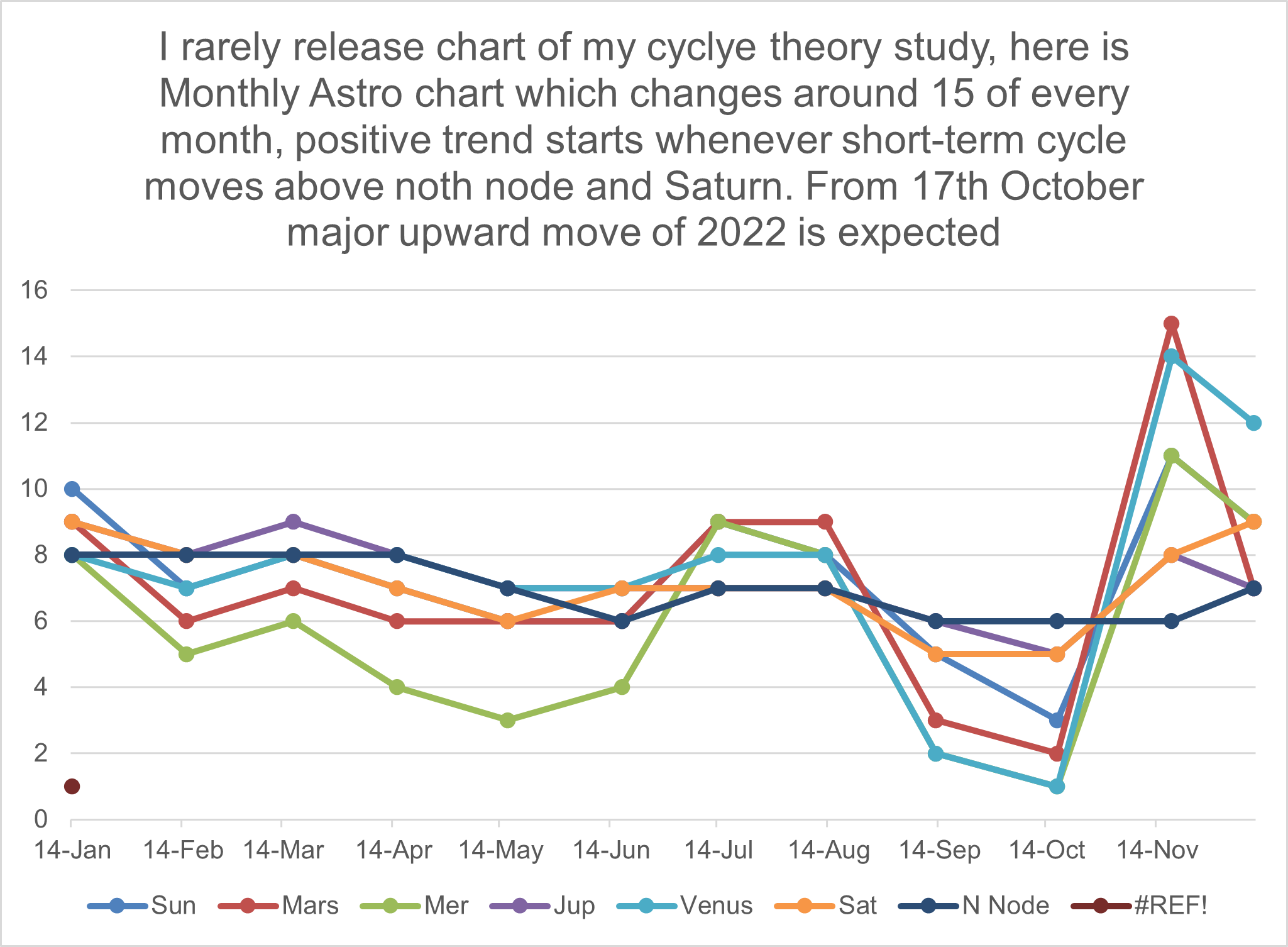 Here is a chart of the ASTRO cycle, you can see that a huge move is starting from 18 October.
Thanks & God Bless
Mahendra Sharma