Tuesday, 07 March 2023
Dear Members,
Last week markets, metals, energy, and currencies traded as predicted. We see a positive trend to continue in the market regardless of Powell's hearing and JOB data. We are aware that many known fund managers are calling the worst bear market, and even many are predicting S&P toward 3200 but we don't see it at this stage S&P remaining below the 3903 level for more than three days. I am surely concerned about next one week and the last week of May and the month of June. If June passes smoothly then we may see one side rally which may surprise every investor on this planet. There is no doubt that US Market to take the lead role, USA tech stocks to multiply, and metals will be moving like fire so let's get ready and plan trade well.
In the coming time, I would like you to take options bet at least 5 to 7% of your capital. I missed three times this bet because I was respecting nature and not decided to trade. The first time I missed a bear bet on the market in 2007, we expected the market and finances to collapse completely and most of you witnessed the crash.
The second bet of on TSLA we recommended, it could have made you 352 times return, and one million dollars could have earned you at least $352 million dollars $7 call options went to $4250. The third best was the bullish bet in the market we recommended on 22nd March 2020 March, when we saw an amazing rally starting and S&P testing 4500 from 2200.
The next seven days are a mix of both sides for markets and commodities but an interesting short-term time era is starting on 13 March 2023. Follow our weekly and daily letters carefully we may recommend some aggressive short-term trades in the market, metals, energy, and currencies.
At this stage, USD will struggle to move above the predicted higher side levels of 105.88, emerging markets have been gaining momentum so keep staying long in emerging market currencies. Book profit in Mexican Peso as it remained one of the best-performing currencies against most of the currencies.
Great time to bet on Thirty Year Bond is on the way, it won't remain below the 123-00 level.
Cotton is ready to be below the upside from our predicted date. Grains and the rest of the softs will trade mix.
Last week recommended buying oil, this week follow our trading ranges but still, some positivity is pending. I am sure you must be having a great fun time trading natural gas. Watch BOIL and DRIP etf closely.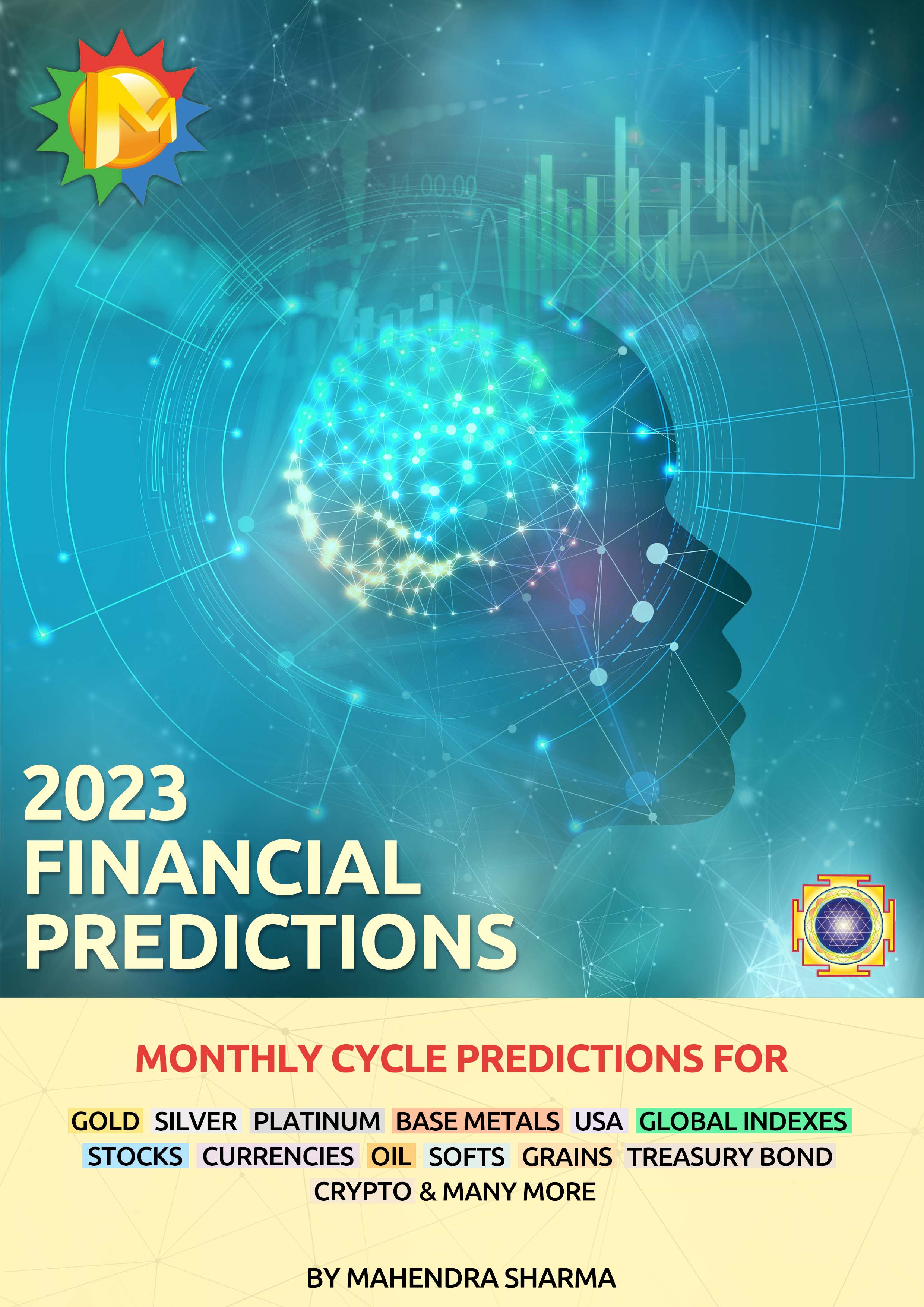 Those who like to take ETFs trade should follow the daily newsletter. So far everything is trading as predicted in our "2023 Financial Predictions book". It is a must-acquire book if you can afford to buy it. Many still requesting to reduce the price of books, but I am sorry, I won't able to do it because I spent almost three months writing a year detailed predictions book for every sector. I don't understand human psychology, People take risks trading thousands of dollars in the market, but they will ask discount of a few hundred USD to buy the book.
Trade light the next five days due uncertain Astro combinations, and wait for the next week's weekly newsletter.
Thanks & God Bless
Mahendra Sharma