Tuesday, 25 February 2020
Tuesday Daily Flash news (Unedited report)
It was bloodbath in Wall-Street and global equity markets, but this fall was real? Or it trap for bear…
Dear Members,
Monday was the worst day for investors because stocks prices were falling across the board like there is big problem globally. Yes, there is problem of Coronavirus but not to this extend which market represented.
Surely China is in problem and it seems that global markets including Chinese market didn't care that much in the last six weeks but now it came in to account. Coronavirus issue in Europe especially in Italy really created havoc yesterday. What we saw in the second cycle started becoming reality and that the reason I was recommending everyone to buy my own book because I wanted people to remain alert. Last three trading day created nightmare for high leverage traders those who trade on margins. Yesterday many investors wrote me notes and one note was that Mahendra; I am scared to open my portfolio to see how much account is down.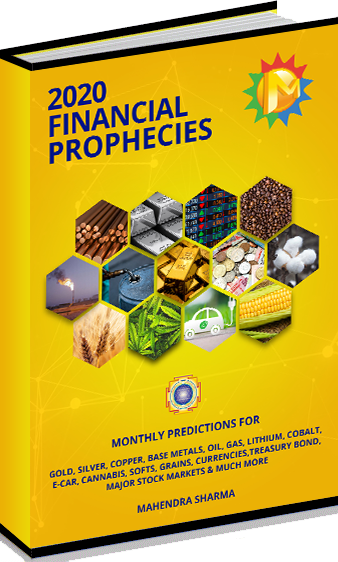 Mercury retro really created havoc and I was expecting something like this to happen and still this negative period haven't got over yet so expect volatility to hit market. It won't be that easy for market to recover V shape when still Mercury is in negative cycle for the next two more weeks but like Tuesday is positive day as mentioned in the weekly newsletter so expect big recovery. It will be very challenging for S&P to close above 3338 level now and if it does then expect S&P to test 3800 in non-stop rally. Read our weekly letter carefully.
REGN, GILD, DXCM and few other biotech stocks only able to remained in green, rest of all sectors and stocks closed in big red. Gold mining stocks performed amazingly well as predicted, our buying recommendations since last two weeks in JNUG and NUGT provided great returns. Energy sector was worst performing one on Monday, this year so far t lost more than 15% value. SOXL and LABU went sharply lower, UVXY and TVIX gained value as predicted.
Most of commodities lost value expect gold and silver. Currencies also lost value.
What is next from here: It looks like that investors will remain bit cautious to jump back immediately in market as they would like to see dust settling down, quality long term investors will be getting ready to buy quality stocks. I strongly recommend following our book carefully, I am sure you must to very happy that you spend your hard earn money on buying our "2020 Financial Prophecies". In out book current astro cycle is positive for metals, and uncertain for markets, but also watch mentioned levels to book profit if you are long or short. Like yesterday we recommended booking profit in gold around $1679 because we predicted that this price would hit and it did yesterday but don't get carried away. Trade gold as like you trading any other financial instrument, don't fall in love otherwise I could be dangerous like what happened between 2011 to 2018.
On Tuesday I am recommending buying Biotech sectors and selective frontline tech stocks.
S&P will have few important astro support points and they are…
Please subscribe to daily Flashnews to read report or you can subscribe weekly newsletter. I am sure 2020 Financial Prophecies will not only guide you right directions but will help you not to go in wrong trades, if you can't afford buying whole book then you can buy part of book of your interested area:
Weekly Newsletter:
https://www.mahendraprophecy.com/weekly-newsletter-subscription.php
Daily Flashnews:
https://www.mahendraprophecy.com/flash-news-subscription.php
2004 Financial prophecies:
https://www.mahendraprophecy.com/2020-financial-prophecies-book.php
Thanks & God Bless
Mahendra Sharma