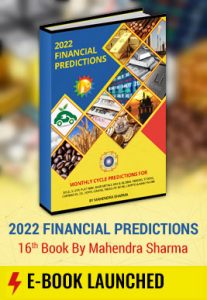 "2022 Financial Predictions", the 16th book by Mahendra Sharma, launched worldwide. After the great success of the "2021 Financial Prophecies" ebook that proved to be a boon to financial market traders & investors, our members were eagerly waiting for the 2022 book.
With 30 plus years of successful track record and an unbelievable accuracy of predictions, Mahendra Sharma's financial prophecies are the most sought after in the financial markets community. The predictions based on the unique 'wave of nature' theory have made millions of dollars for many of his members. Even Mahendra Sharma has made a record of more than 13000% returns in just 5 months using this theory. This feat was submitted to Guinness book of world records.
Why 2022 Financial Predictions Book is a Must Have?
The ebook covers what the monthly trading pattern in metals, markets, currencies, energy, grains, softs, bonds, and Crypto currencies will be. It will make traders and investors lives very easy because the book has a detailed outlook on which month the markets, commodities, currencies, etc. will move aggressively, and which month they will fall sharply.
E-Book is covering 2022 detailed rising and falling cycles of:
Metals

– Gold, Silver, Copper, Palladium, Platinum & other base metals

Energy

– Oil, Heating Oil, RB Gas and Natural Gas

Grains

 – Corn, Wheat, Soy, Soy meal and Soy oil

Soft

 – Coffee, Cotton, Cocoa, Sugar, Orange Juice and Lumber

Treasury Bonds

 – Thirty years Bond

Indexes

 – S&P, Nasdaq, Nikkei, Hang Sang, ASX, Nifty India, DAX, CAC, Swiss & FTSE, Canada, Indonesia, Thailand, Singapore, Malaysia, South Korea, South Africa, Most of other European Market, South American Market, Asian Markets and Middle East Market.

Currencies 

– Dollar Index, EURO, Pound, Yen, Swiss Franc, SA Rand, Australian & Canadian dollar, Indian Rupee, Most of South American and Asian Currencies.

Crypto Currency 

– Monthly Trading Pattern of Crypto Currency.
How to purchase 2022 Financial Predictions Book?
The book is launched worldwide. You can purchase the book on mahendraprophecy.com. You can visit the book details page by clicking the below link:  https://www.mahendraprophecy.com/2022-financial-predictions-book.php