Thursday, 14 March 2019
Thursdays Daily Flash news (Unedited report)
Market is holding value and dollar is losing shine…surely "2019 Financial Predictions" is becoming darling of Wall-Street
Dear Members,
In the last few days amazing review we have received for 2019 Financial Predictions, new buyers trying to figure out that how we are put out predictions for whole year of 2019 about each commodities, market and currencies. I know it is most challenging job, but I trust 100% astro cycle and try to do best. I am not claiming that my 100% predictions will come true but our predictions will guide you to make right decisions which may make you tones of money.
I will be back in Santa Barbara. On Wednesday markets moved higher, commodities also gained value and dollar lost value as predicted.
Tomorrow I will be doing "Havan" with 11 priests from 5.00 AM so I will just send small not for Friday rather than whole letter but I will make sure that I guide you correctly.
March contracts of Index will expire on Friday, it is triple witching day, on Monday currency market contracts will expire.
As predicted S&P held 2738 level during last week, gold held value of $1281 and dollar struggle to move above 97.15 level so our predictions are on track. Next week gold, silver and platinum will make big move so watch closely and must get ready to read weekly newsletter.
Finally grains and softs started moving higher and oil prices traded higher and may test $60.68 level before it start bearish trend.
Pound trading very volatile but holding value, we may see 1.3378 level as predicted and emerging market currencies started gaining value aggressively as predicted.
Stocks like CIEN, LSCC, EXTR, PBYI and TNDM done amazingly well in the last one two months. Cannabis stocks will start making bigger move from here onward so great time to bet on cannabis stocks, must read this months cannabis report.
So far most of short term advise really working very well, also book predictions are doing amazingly well.
People are really happy with our this year book and I am great full to astro time cycle:
grateful subscriber to your 2019 prediction book
From Efrem,
Hi Mahendra,
I am curious to know if still stand by all calls made in your book since your astro combinations are now favorable. Wondering if analysis would have been different for any parts of the book had you been in your positive astro zone.
So far, spot on -- my analysis confirms what you are seeing.
Best regards,
I just got listed in the Top 20 Global Fintech Thought leaders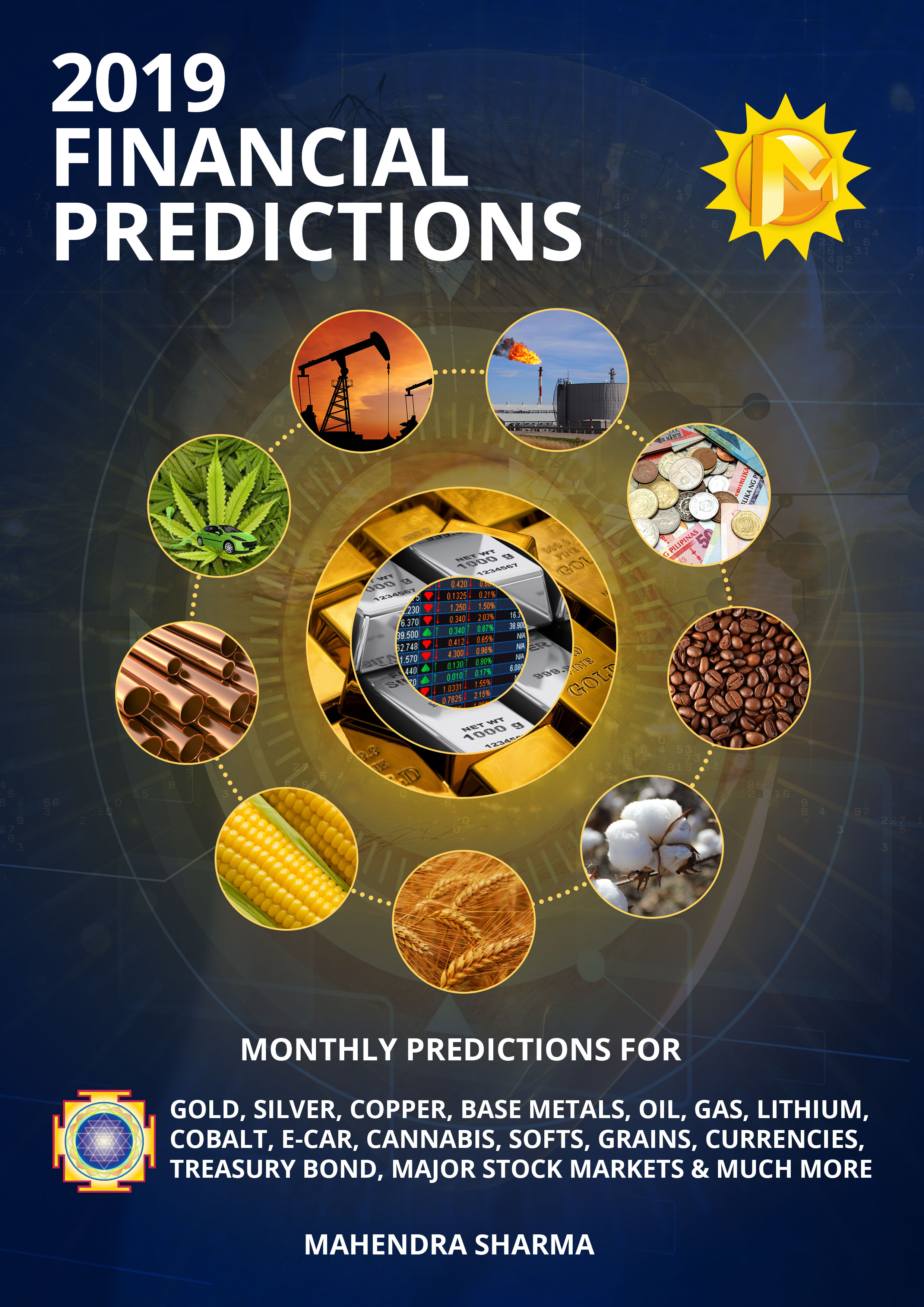 I think this year book is worth reading to know glimpse of 2019, because astro wave is only one theory which can provide you medium to longer term market trend. Book cost is less than $1.00 if you buying individual sections so please buy if you which to rather than delaying.
We have launched metals, currencies, indexes, softs, grains and Indian market separate sections, read more about each sections here: https://www.mahendraprophecy.com/2019-financial-predictions-book.php
Thanks & God Bless
Mahendra Sharma